Symposium: The Transformation of American, Canadian and Danish Airpower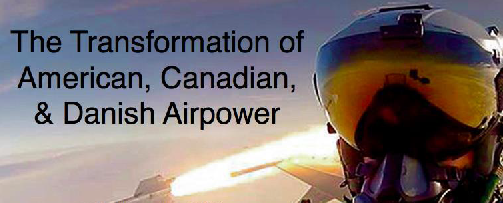 Western airpower has transformed the way that the West uses military power, enabling intervention in conflicts such as those against IS in Iraq and Syria where the use of ground forces would be politically difficult. How have the air forces of the United States, Canada, and Denmark transformed themselves over the past quarter century to enable such interventions? Please join our panel of experts and find out.
The symposium is sponsored by the Danish Society for Military Science and the Centre for Military Studies at the University of Copenhagen. It complements the symposium held on 13 November at the Kastellet.
The symposium takes place on 12 November from 19:00 to 21:30 at Svanemøllens Kaserne, Building 118. Please register by e-mailing gs@ifs.ku.dk.
Click on the name to view presentations.
***
Program
19.00-19.15: Welcome
- Rear Admiral Nils Wang, Commandant, Royal Danish Defence College
19.15-20.30: Transformation of Airpower
The United States
- Dr. Forrest Morgan (RAND)
Canada
- Dr. Richard Goette (Canadian Forces College)
- Major William March (Canadian Forces Air Warfare Centre)
Denmark
- Dr. Gary Schaub Jr. (Centre for Military Studies)
20.30-20.45: Break
20.45-21.30: Questions, Answers, and Discussion
***
Please note that this symposium continues at 08.45 on 13 November 2014 at the Kastellet under the auspices of the Centre for Military Studies, where the air forces of the United Kingdom, France, the Netherlands, Norway, Sweden, and Denmark will discussed as well as concepts and trends in European airpower. Click here for more info.
Furthermore, CMS continued to explore the multinational context within which Denmark will replace its F-16 fleet in a follow-on symposium in April 2015.  Details can be found here.