One year into the Russian invasion of Ukraine – how it changed Europe and how the war may end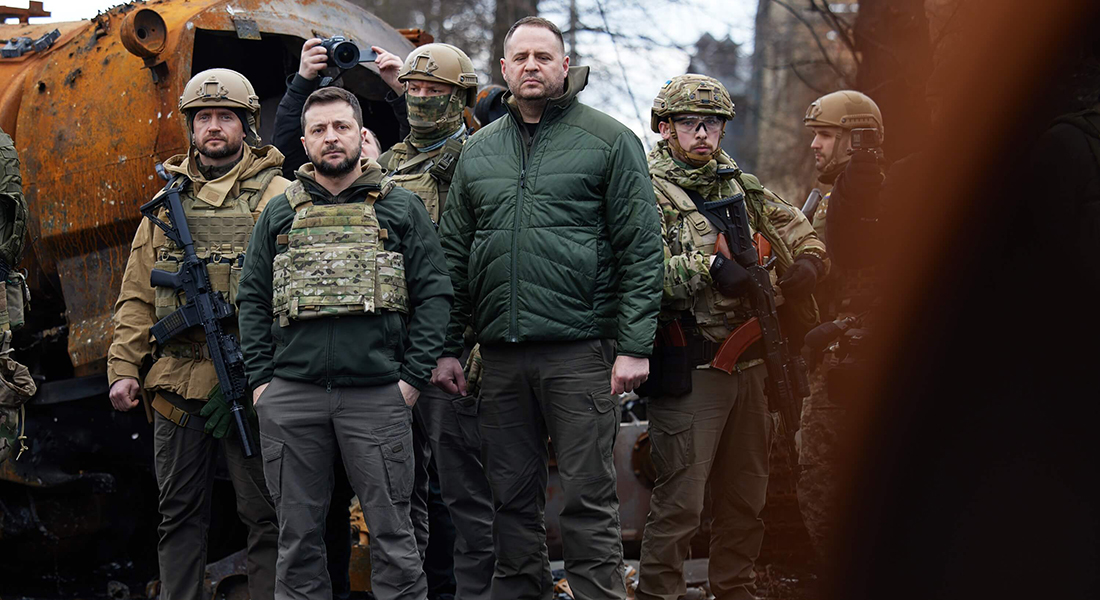 To mark that Russia's invasion of Ukraine has now been ongoing for a year, the Centre for European Politics and the Centre for Military Studies at the Department of Political Science - together with the European Commission and the Danish Foreign Policy Society - are hosting a public conference, where leading experts on European security and Ukraine will discuss the consequences of the war and how the war may end.
Date and time: Thursday, February 23 at 15:00-18:15, followed by networking.
Venue: University of Copenhagen, City Campus (CSS), Room 35.01.05, entrance from Gammeltoftsgade 15, 1353 København K.
Register here no later than Wednesday, February 22.
15:00-15:05: Introduction by Marlene Wind, Professor and Special Advisor to HRVP Josep Borrell
15:05-15:05: Welcome by
Nina Græger, Head of Department of Political Science, University of Copenhagen and
Per Haugaard, Head of Representation, European Commission
15:15-15:30: Vydoinyk Mykhailo, Ambassador of Ukraine
15:30-15:55: The Russo-Ukrainian War: The Return of History
Prof. Serhii Plokhii, Professor Harvard University. Author of: The Frontline: Essays on Ukraine's Past and Present (Harvard Series in Ukrainian Studies), November 2021
15:55-16:15: Q&A with Vydoinyk Mykhailo and Prof. Serhii Plokhii
16:15-16:55: Panel debate (in English) Moderator Marlene Wind
- Dr. Kristi Raik: Russia's war against Ukraine is reshaping Europe: Are we up to the challenge? Estonian International Centre for Defence and Security
- Dr. Benjamin Tallis: The New Idealism: Learning from Ukraine to Save Europe's Future
German Council on Foreign Relations (DGAP) Author of: To Ukraine With Love: Essays on Russia's War & Europe's Future
- Soren Liborius: How the war is changing the Russian society: A new totalitarianism, a new style of warfare? Senior Advisor, European External Action Service (EEAS)
16:55-17:00: Change of scene
17:00-17:45: Panel debate (in Danish) Moderator Marlene Wind
Hvordan har krigen ændret os i Europa og hvordan vil den ende?
- Kristian Søby Kristensen, Centre for Military Studies (CMS), University of Copenhagen
- Charlotte Flindt Petersen, The Danish Foreign Policy Society
- Yevgeniy Golovchenko, Copenhagen Center for Social Data Science (SODAS), University of Copenhagen
- Anne Kahl, Ministry of Foreign Affairs Denmark
- Jon Kyst, Head of Sector, EEAS Russia Division
17:45-18:15: Euromaidan: the fight and the transformations it induced in Ukrainian society
Presentation and discussion with Ukrainian participants of the Revolution of Dignity and founders of NGO Ukrainian Dialogues
- Yulia Kindra, Dr. Serhii Kostrikov, Dr. Anastasiia Krasnoshchoka, Dr. Liudmyla Waller
Q & A with Charlotte Flindt Petersen, Director Danish Foreign Policy Society
18:15- : Networking and musical intermezzo by mezzosoprano Nataliya Vorobyova